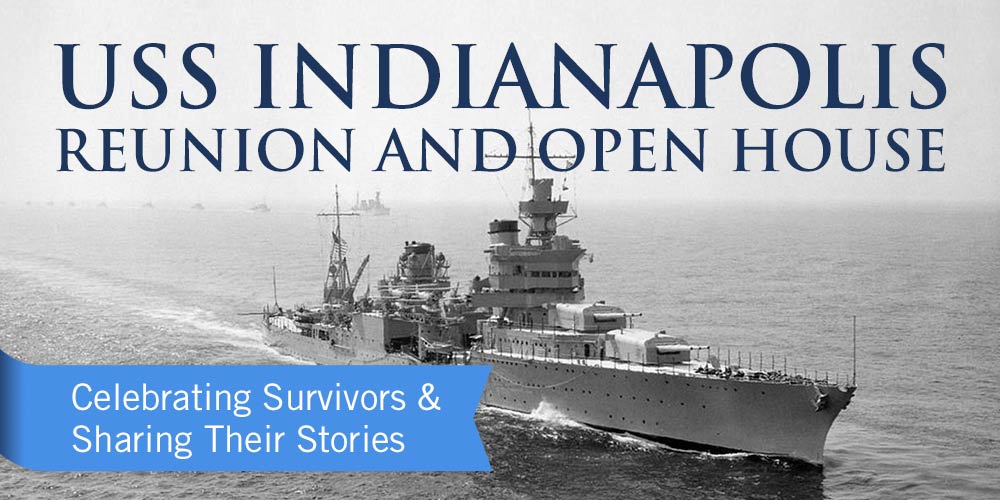 SOLD OUT: USS Indianapolis Lunch and Open House
Unfortunately, this event is SOLD OUT. Thank you for your interest and we look forward to seeing you at future events!
The USS Indianapolis CA-35 and her crew played a pivotal role in the Allied victory over Japan before she was sunk on July 30, 1945. This loss is considered one of the worst naval disasters in U.S. history and as Captain William Toti, U.S. Navy (Ret), so aptly stated, "No ship or crew in history has done more or sacrificed more than the cruiser Indianapolis."
You are invited to join the Indiana War Memorials Foundation, Indiana War Memorials Commission, and the 74th USS Indianapolis CA-35 Reunion families for a very special event on the afternoon of July 19th.  This informal event will include a luncheon, excerpts from the play "Failure to Zig Zag: The Story of the U.S.S. Indianapolis," special tours of Indiana War Memorial USS Indianapolis exhibits, and a presentation of the PBS documentary U.S.S. Indianapolis: The Final Chapter.
Join us just for lunch or for the entire afternoon to recognize and welcome families of USS Indianapolis CA-35 to Indianapolis.
Agenda
11:30    VIP reception for USS Indianapolis Reunion families and sponsors
12:00   Luncheon
1:00     Open House (You may pick one of the following activities):
⚬ Tours of USS Indianapolis Replica Radio Room
⚬ Tours of the USS Indianapolis exhibit and Silver Service
⚬ Tours of the Indiana War Memorial Shrine Room
⚬ An excerpt from Carmel Community Players' production of "Failure to Zig Zag: The Story of the USS Indianapolis."
⚬ Special presentation of PBS documentary USS Indianapolis: The Final Chapter
⚬ Experience the Indiana War Memorial Museum on your own
2:30     End of program

Tickets are sold out and are no longer available for this event. 
More information:
Please contact
Marie Beason
Executive Director
Indiana War Memorials Foundation
mariebeason@indianawarmemorials.org
(317) 650-9058