The Indianapolis National POW/MIA Recognition Day Ceremony, led annually by the Indianapolis POW/MIA Council, Inc., will be held Friday, September 16, 2022, 12:00 p.m., at the Indiana War Memorial, 55 East Michigan Street. The sacrifices of the service members who were prisoners of war and those who remain missing in action, will be honored and remembered.
The Watchfire 
Thursday, September 15, 2022: 7:30p.m. – 10 p.m.
Following an ancient military tradition of lighting a fire after a battle to help the wounded and missing find their way back home, a watchfire will take place
on the steps of the Indiana War Memorial as a prelude to the National POW/MIA Recognition Day Ceremony that will take place the next day. A ceremonial flame column will serve as a watch fire as 1700 names of the missing Hoosiers from all wars since WWII are read. An American flag representing each POW/MIA will be placed on the lawn of the Indiana War Memorial. This ceremony will largely be conducted by local youth who participate in patriotic organizations.
National POW/MIA Recognition Day
Friday, September 15, 2022: 12:00 p.m.
Placing of the Wreath: Russell "Gabby" Pryor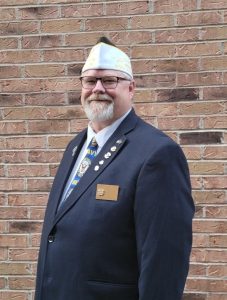 Desert Storm Navy veteran and Veteran's of Foreign War (VFW) District 11 Jr. Vice Commander/Chief of Staff, Russel "Grabby" Pryor, will place the wreath honoring all of the Indiana service members who were prisoners of war and those who remain missing in action, during the POW/MIA ceremonies Sept. 16 at the Indiana War Memorial.  The solemn placement of the wreath is strong, silent visual that honors these service members and ensures what it says on the POW/MIA flag, "YOU ARE NOT FORGOTTEN." Pryor served in the Navy as a Boatswain's Mate from 1988-1994. During his service at sea, he served on submarine tender the USS Emory S. Land, on the destroyer tender USS Acadia, and the amphibious assault ship USS Peleliu. "I loved being haze gray and underway," said Pryor. It was his time aboard the USS Acadia that he served Operation Desert Shield and Operation Desert Storm. Since leaving the Navy he has continued to serve a veteran's liaison and advocate, is the VFW central region membership chair, Student Veteran's of America chair, and the Indiana State Lead for the National Desert Storm War Memorial.
Keynote speaker: Suzanne Hoff Ogawa
This year's keynote speaker for the National POW/MIA Day ceremony is Suzanne Hoff Ogawa, daughter of Commander Michael George Hoff, U.S. Navy, Missing in Action (MIA) during the Vietnam War. Suzanne will present a rare 50-year anniversary replica of the first POW/MIA banner, to the Indiana War Memorial during the ceremony in honor of her father and all MIA families. Her mother, the late Mary Helen Hoff, was instrumental in the idea and creation of the original POW/MIA banner that served as the forerunner of today's POW/MIA flag. She is the only daughter of Commander Michael George Hoff, who was declared missing in action over Laos on Jan. 7, 1970, when he was shot down while piloting a single-seat A-7A Corsair while on a ground attack mission. He was seen ejecting from his aircraft but was never seen again.
He was stationed at Cecil Field Airport, one of three naval bases in Jacksonville, FL. The family lived just outside of the city in Orange Park. "There was a very large naval presence where I grew up," said Ogawa. "My dad was one of the first from that area to go missing or be taken captive. When that happened, my mom immediately had support from other military wives. But the government wasn't very forthcoming with information and cautioned the families not to say anything for fear it might jeopardize getting answers from the Vietnamese government." Wives in similar situations and in various pockets around the county began a letter writing campaign to the government trying to get answers. To form a more cohesive group the National League of American Prisoners and Mission Southeast Asia was established May 2, 1970. They needed a symbol for this organization.
With inspiration and a strong desire to establish a symbol, Mary Helen contacted Norman Rivkees, vice president of Annin & Company (a flag and banner manufacturer) in New York, and he proved to be very interested in developing such a banner. Mary Helen worked with Newt Heisley, one of the company's designers. The idea was Mary Helen's and the design was created by Heisley. Originally, the design appeared on a banner. After approval of the design by the National League of POW/MIA Families' Board of Directors, flags were manufactured for mass distribution
. The first banners that were made are rare. "We believe that the banner that our family has is one of the first ones ever made," said Ogawa. "The banners were originally made in 1971, so they were 50 years old last year. A friend of mine, Kelly Sheehan, made it his mission to get a limited edition run of the original banner, manufactured by Annin, placed in all 50 States."
Ogawa is going to present one of these rare banners at this ceremony to local members of the National League of Families to be displayed in Indiana War Memorial. Today, most of the members of League are adult children of POW/MIAs. They consider themselves family and are a very tight knit group. This presentation will be a powerful moment in the ceremony.
Rolling Thunder® Inc. Indiana, a non-profit advocacy organization that brings awareness to the public about our Nation's POWs/MIAs, and the Indianapolis Metropolitan Police Department will escort former POWs and families of POWS/MIAs from the Fort Harrison Veterans Center to the Indiana War Memorial. Following the ride, members of Rolling Thunder will participate in the recognition day ceremony.
For more information regarding this event please visit the POW/MIA Council of Indianapolis Facebook page: https://www.facebook.com/indypowmia.