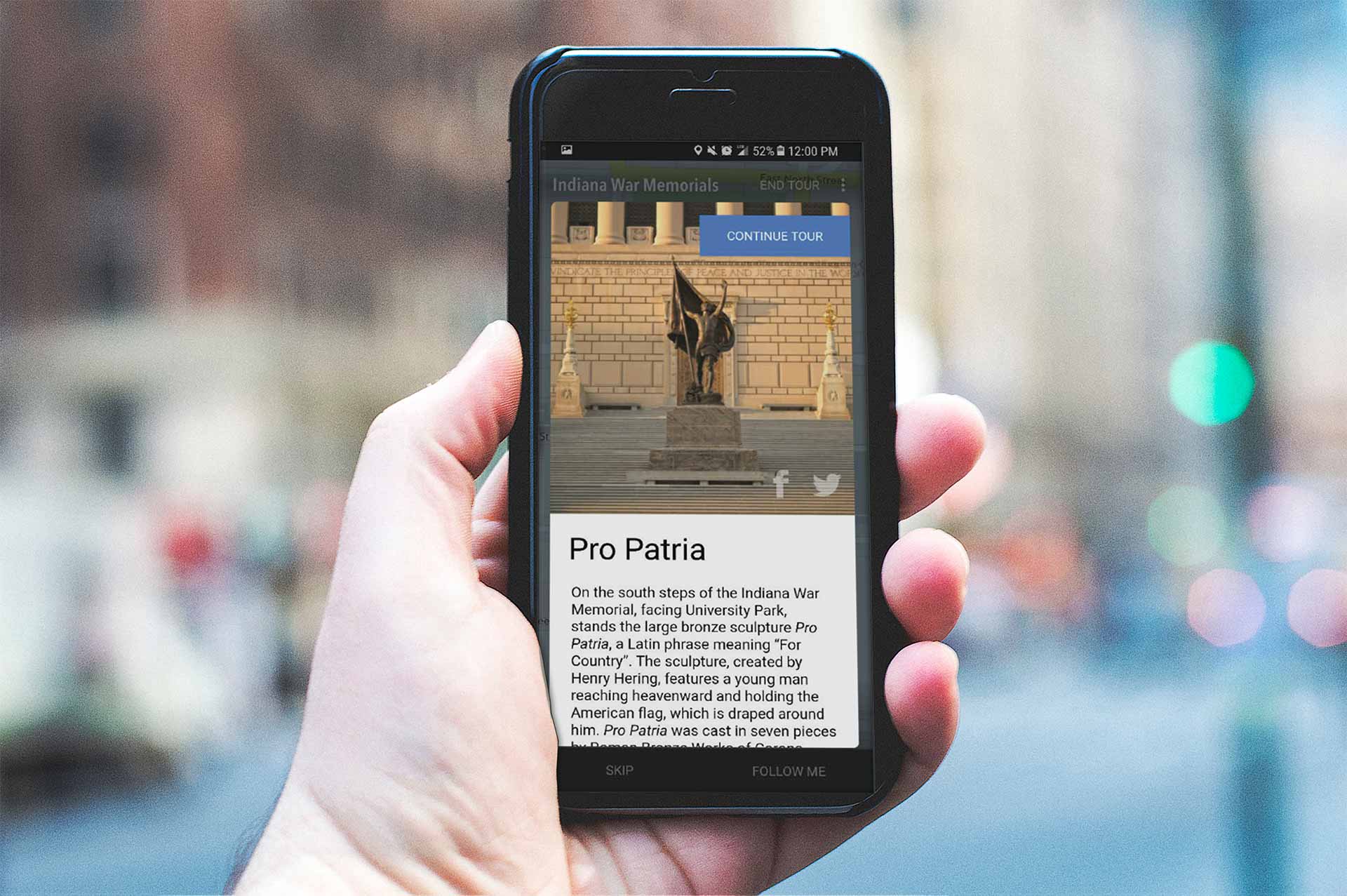 Indianapolis, Indiana devotes more acreage than any other U.S. city to honoring our nation's servicemen and women, and is second only to Washington, DC, in total number of military monuments and memorials. Occupying more than 25 acres of the Circle City, the properties managed by the Indiana War Memorial Commission have a rich history dating back to the late 19th century. While docent led guided tours, whether provided by the IWMC or through an independent tour company, have been available to learn about these memorials, they require a visitor to work within the provider's schedule and are limited to availability. To increase accessibility to the storied history of these Indiana treasures, the Indiana War Memorials Commission is now utilizing the PocketSights tour app and has created a free self-guided informational tour of all of the properties managed by the IWMC.
This mobile self-guided properties tour combines location based service with photos and text descriptions to share the stories and history of the IWMC's monuments and memorials through a visitor's phone, tablet, or computer. The descriptions and historical content has been compiled and is regularly reviewed by the Tour Manager of the Indiana War Memorials to ensure that users receive the most accurate and up to date information on the locations being visited.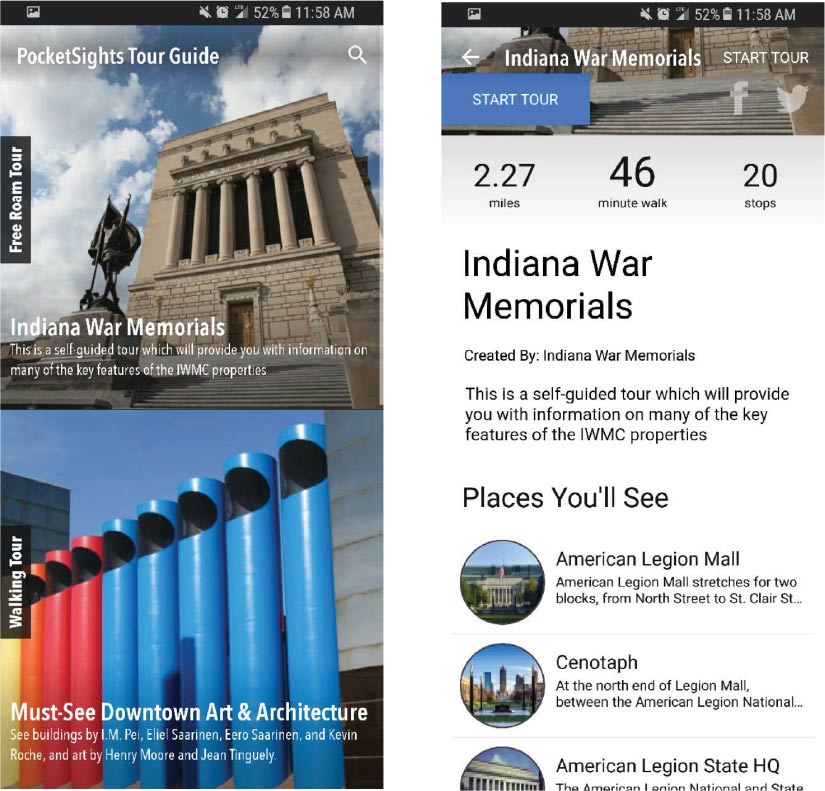 A web-based version of the Indiana War Memorials Tour is available at https://pocketsights.com/tours/tour/Indianapolis-Indiana-War-Memorials-1605
To download the PocketSights App, search "PocketSights Tour" in your iOS or Android app store/marketplace.
Upon opening the app, users in the Indianapolis area will see the IWMC tour featured on the screen (based on GPS location). You can also search "Indianapolis" within the app to discover the Indiana War Memorials tour.
The GPS assisted map-based interface allows users to see exactly where they are and which points of interest are nearby.
Open the nearby point of interest by tapping it on the map to view information and pictures about that specific feature.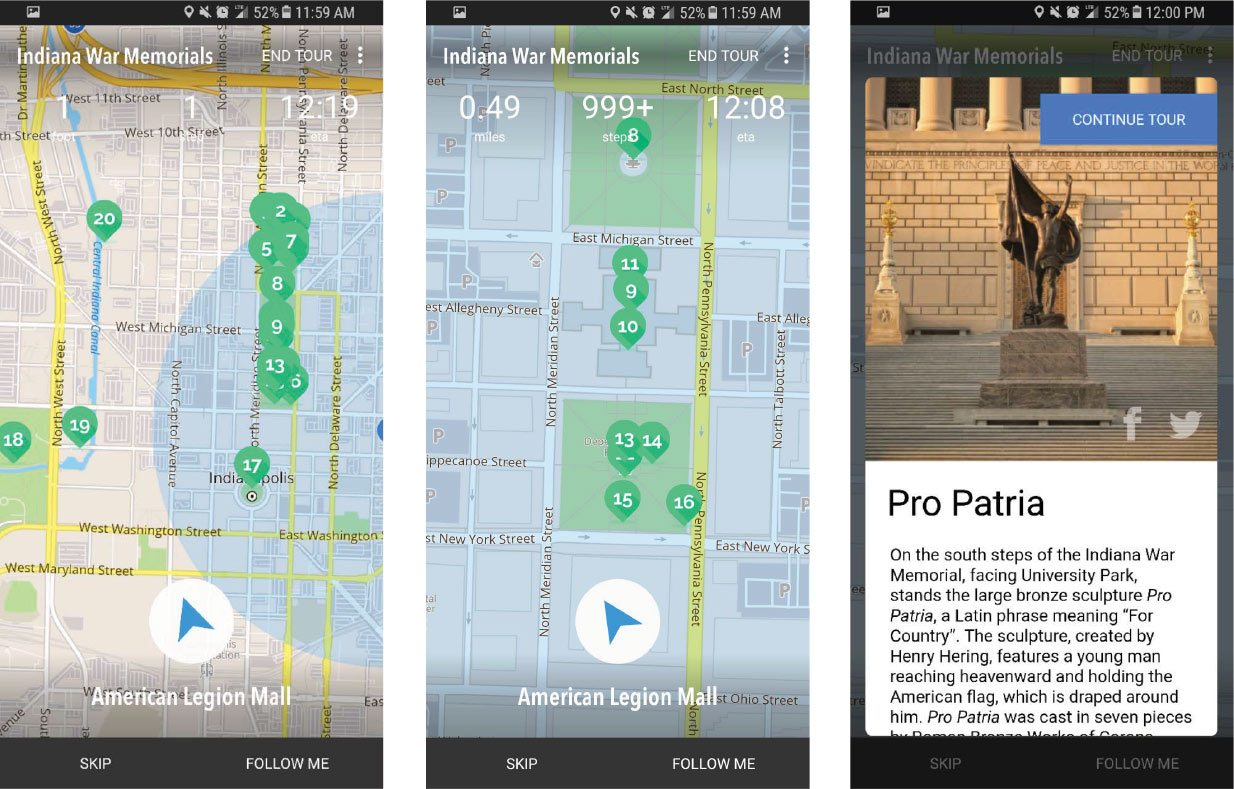 The Indiana War Memorials Commission properties include a museum, three parks, and 25 acres of monuments, statues, sculptures, and fountains in the heart of downtown Indianapolis. The IWMC operates these facilities in pursuit of its primary mission: to commemorate the valor and sacrifice of the United States Armed Forces, and to honor Hoosier veterans and Indiana's role in the nation's conflicts. It is our hope that, by providing this historical self-guided tour, visitors will gain a new understanding and appreciation of the memorials and monuments that the State of Indiana has erected to respect and remember those who have served for our freedoms.
For more information on the properties of the Indiana War Memorials Commission please visit www.iwm.in.gov or www.indianawarmemorials.org.