Early Life 
Charity Adams was born on December 5, 1918 in Kittrell, North Carolina. She grew up in Columbia, South Carolina until moving to Ohio to continue her education at Wilberforce University where she majored in mathematics, Latin, physics. In 1938 she graduated and moved back to Columbia where she taught math and science in a junior high school, while spending her summers taking graduate classes at Ohio State University in psychology.
Military 
In 1941 the United States declared war with Germany, and in an effort to expand military forces the Women's Auxiliary Army Corps (WAAC), later known as the Women's Army Corps (WAC) was created. Adams was one of the first black women to be accepted for the officer candidate class at the WAC in Fort Des Moines, Iowa. At the time the army corps was still segregated and black members of the WAC had to put up with prejudices of not only males who did not want women in the "man's army," but also those who chose to not accept African Americans in positions of authority. Major Adams was the WAC's first black officer and commanding officer. After completing her training in 1942, she was promoted to Major and placed in charge of the first WAC African American unit to go overseas.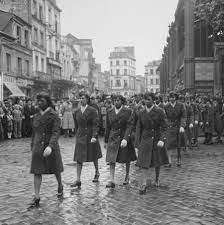 The 6888th Postal Battalion, nicknamed "Six Triple Eight," arrived in Birmingham, England, where they discovered piles of undelivered letters and packages for U.S. soldiers. The WAC was aware that the lack of mail to the frontline was lowering the morale of American soldiers, so they got to work sorting and delivering the mail, their motto being "No Mail, No Morale." Despite the frigid conditions, the 6888th, under the command of Major Adams, was able to sort and distribute all the mail and packages in only three months.
Unit 6888 Postal Battalion broke records for redirecting military mail, overcoming extreme obstacles and rejection by other military personnel. Major Adams commanded the group from Birmingham to Paris and Rouen, France, throughout the entire journey standing up to racial prejudices and constant ridicule from the general whose command the battalions operated under.
Following World War II, effective December of 1945, Adams was promoted to the rank of Lieutenant Colonel, the highest possible rank a woman could obtain within the WAC. She returned to America and was assigned to a position at the WAC Headquarters at the Pentagon, however this assignment was unappealing and she decided to return home and move on with her life.
Post military life 
Upon her return home, she completed her masters degree in psychology from Ohio State University and worked for the Veterans Administration in Cleveland before entering into academic administration and marrying Stanley Earley in 1949. The rest of her days were devoted to community service, and continuing her studies in various subjects of interest. She founded the Black Leadership Development Program (BLDP) in Dayton, Ohio in 1982, a program that seeks to educate and train African Americans to be leaders in their communities. In 2000 she formed Parity Inc which assisted in facilitating the BLDP's training program. The incorporation is still quite active in Dayton, Ohio today.
Legacy
Unfortunately, upon their return home the women of 6888 did not receive public recognition for their service, yet their diligence and commitment paved the way for women to continue to serve their country today.
Charity Adams did go on to receive many honors and awards later in her lifetime:
Woman of the Year from the National Council of Negro Women, 1946
Service to the Community Award from the Ohio state Senate, 1989
Listed on the Smithsonian Institution's 110 most historical Black women
Ohio Women's Hall of Fame, 1979
Ohio Veterans Hall of Fame, 1993.
South Carolina Black Hall of Fame, 1991
Citizen of the year by The Montgomery County Board of Commissioners, 1991
In 1996 the Smithsonian National Postal Museum honored Adams for her work with the 6888th Postal Battalion with a ceremony, recognizing her achievements from World War II. Charity Adams Earley paved the way for African American women in military, education and community life. She passed away peacefully in January 2002.
Sources: 
https://www.womenshistory.org/education-resources/biographies/charity-earley 
https://nationalvmm.org/pioneering-women-lieutenant-colonel-charity-adams-earley-u-s-army/ 
https://www.freemansrag.com/historical-ruminations/charity-adams-early-teacher-and-leader-of-women