Hershel "Woody" Williams, Medal of Honor Recipient, will speak to Gold Star Families and Memorial Service guests. Williams is the sole surviving Marine from WWII to wear the Medal of Honor. Williams enlisted in the United States Marine Corps in 1943, serving during several battles in World War II. The last battle he served in was the Battle of Iwo Jima with the 21st Marines, 3d Marine Division. During the battle, Williams displayed "valiant devotion to duty" and service above self as he "enabled his company to reach its objective." Mr. Williams' actions, commitment to his fellow service members, and heroism were recognized on October 5, 1945, when he received the Congressional Medal of Honor from President Truman at the White House. Mr. Williams' devotion to duty, service members, veterans and their families began long before that battle and before he entered the Corps. As World War II began, Woody came into direct contact with families in his own community when he delivered Western Union telegrams informing the Gold Star families of the death of their loved one. Woody says that those experiences gave him a "greater appreciation for life and an understanding of a difference in death in the normal world as expected in life, and those lost serving in the military for their country."
General Michael X. Garrett, Commanding General, U.S. Army Forces, will speak during the 2019 500 Festival Memorial Service, presented by Rolls-Royce. General Michael X. Garrett assumed duties as the 23rd Commander of United States Army Forces Command, Fort Bragg, North Carolina, in March 2019. As Commander of the United States Army's largest organization, he commands 215,000 active duty Soldiers, and provides training and readiness oversight of U.S. Army National Guard and U.S. Army Reserve. In total, the Forces Command team includes 745,000 Soldiers and 96,000 Civilians.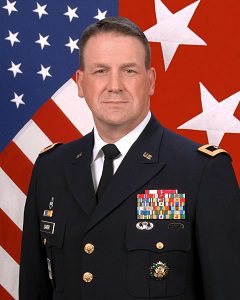 Joining Gen. Garrett and providing remarks will be Major General Courtney P. Carr, the Adjutant General of Indiana. Leader of the Army and Air National Guard, the Indiana Guard Reserve and State employees, General Carr directs those units in support of state and federal missions. Upon three decades of varied military service, abroad and in the United States, his climb in the ranks has commissioned him to oversee 15,800 personnel and their functions.