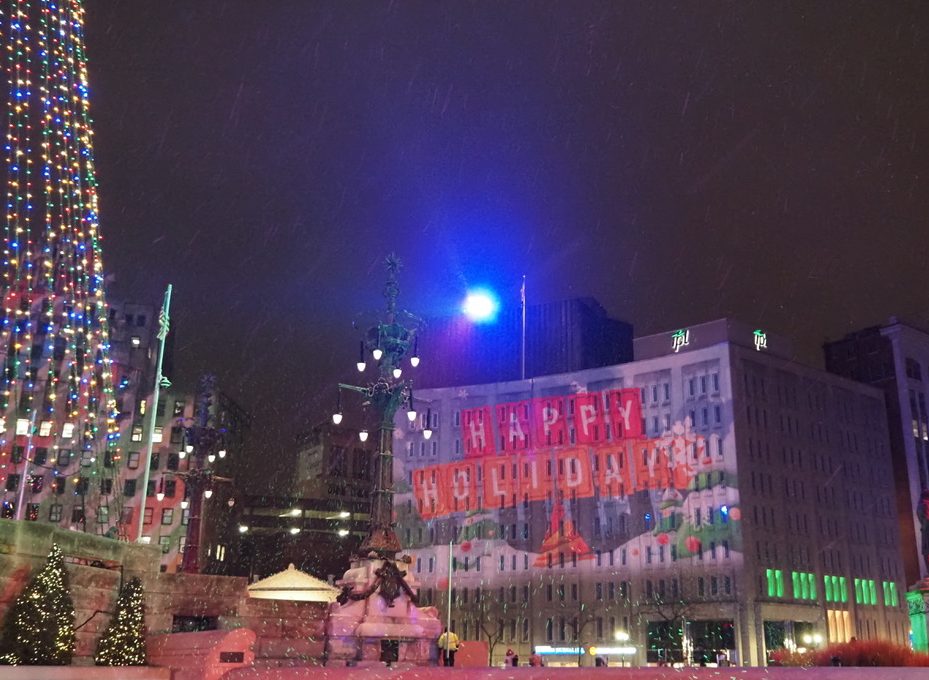 Looking for something fun and festive to do this holiday season? A way to get into the holiday spirit, but maintain your social distance? Running from November 27 through December 31, the Circle of Lights, including a special holiday edition of Shining A Light on Monument Circle is a great evening activity for all ages. 
For generations, Monument Circle has been a hub of holiday festivities in Indianapolis. And while this year feels different, the tradition of the Circle of Lights continues, thanks to generous support from IBEW 481 (Indiana Brotherhood of Electrical Workers), Downtown Indy, Inc. and the Indiana War Memorials Commission. Together, the Circle of Lights in conjunction with a specially holiday presentation of the Signature Salute, creates an experience for the whole family to enjoy. 
If you haven't had the opportunity to experience Shining A Light, you'll be moved by the massive 360° coordinated audio, video and light projection on Monument Circle. The Signature Salute and Holiday Presentation airs three times nightly.  The full holiday schedule includes:  
6:00 PM – America the Beautiful
6:30 PM – Signature Salute / Holiday Presentation 
7:00 PM – Armed Forces Medley 
8:00 PM – Signature Salute / Holiday Presentation 
10:00 PM – Signature Salute / Holiday Presentation 
10:30 PM – National Anthem 
What a  perfect opportunity to get in the holiday spirit and take time to remember the valor and service of those currently serving and those who have served, as we relish one of the most amazing gifts of all – our freedom.